Natural honeycomb
For us, natural honeycomb construction is an essential part of ecological beekeeping. We do not use pre-pressed wax plates so our bees can design the majority of their honeycomb themselves.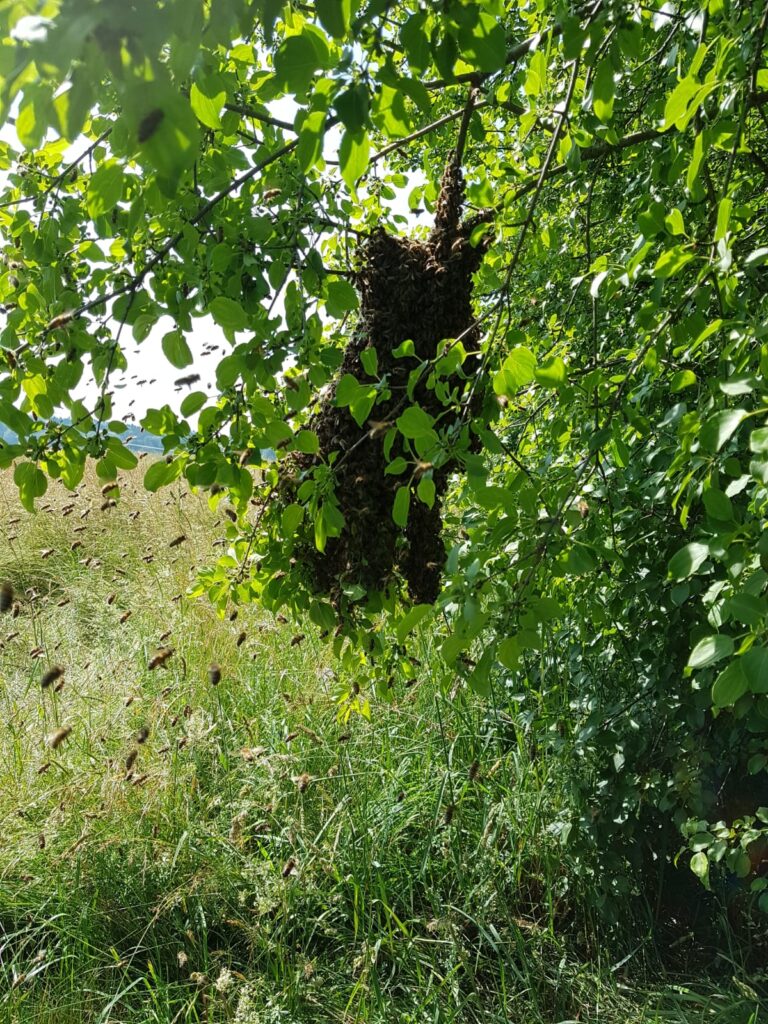 Each bee colony is a fascinating superorganism
Bees create their own "wax body" by building honeycombs, which for them is a skeleton, sensory organ, memory store, and immune system all in one. It serves as a birthing station, communication network, or heating: every bee spends most of its life in this pitch-black wax body. Accordingly, the bees pay a lot of attention to the body's own wax production and the precisely aligned honeycomb architecture. The production of one kilo of wax alone requires around seven kilos of honey.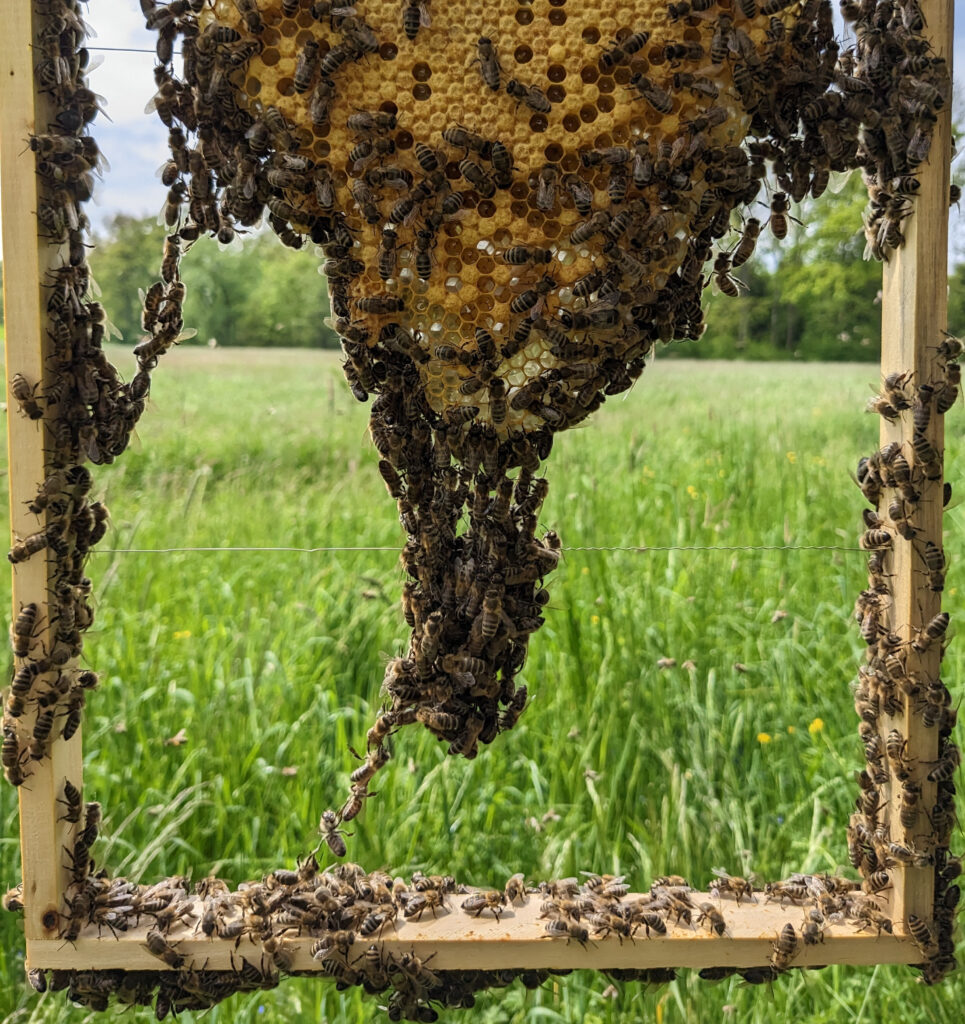 Natural honeycombs are formative for the bees
Natural honeycomb construction is an impressive joint effort: bees form busy construction chains and shape the previously "sweated out" wax platelets into honeycombs – millimeter by millimeter. This approach takes longer and significantly reduces the honey yield compared to pre-pressed wax plates. On the other hand, it promotes vitality and diversity: each natural honeycomb is unique, and thanks to differently sized cells, the size of the hatched bees also varies.
THE BEES GET THE TIME BUILD THEIR OWN HOME
To this end, we primarily provide them with so-called one-room hives made of wood and reeds: they are spacious, homemade, and modeled on a natural tree hollow. The one-room hive offers advantages to all. To us because it allows gentle beekeeping. And to the bees, because they can realize their building plans and architectural ideas undisturbed. Combined with loose placement of only a few hives per stand, we hope to help the bees cope better with negative environmental influences.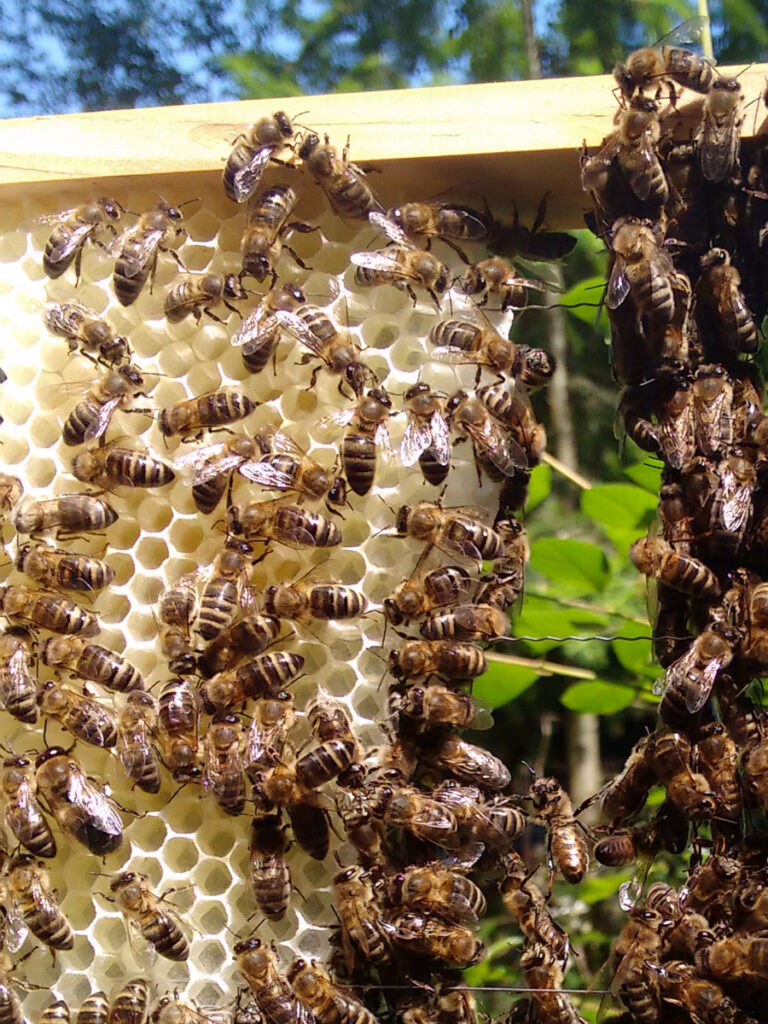 Natural honeycombs stand for purest wax
Beeswax is an amazing natural product from many points of view. Yet undesirable substances from the environment can also accumulate in it over time. Conventional wax is often watered down with cheap substitutes on the world market. This results in poor wax quality and can negatively affect the bees' health. In contrast, freshly built natural honeycombs yield the purest and most valuable wax quality available. Thus, our wax – which is checked for residues in the course of organic certification – also forms the ideal basis for cosmetics, such as our propolis cream.
OUR OFFERS TO INTERESTED BEEKEEPERS